Quality guide of vinyl flooring | Things To Consider
Either its Vinyl, sheet, planks, or tiles, every type is superior to other available floorings. Indeed, no other flooring is proficient at getting a top position on Vinyl. Vinyl floors work like an all-rounder because of great combinations and DIY installation mechanisms. Although vinyl floors have a good quality, each type has a clear distinction from others.
Nothing is more durable than top-notch vinyl tiles and vinyl planks. Ultimate versatility, unique styles, easy cleaning, and affordability are the prime factors behind the selection.
Vinyl tiles and vinyl sheets are now different in quality from historical Vinyl. Modernization in technology has produced myriads of styles and trending options with enhanced optical depths. Realistic 3D looks strongly mimic natural materials such as hardwood and ceramics.
Once you have decided on the Vinyl material, then for quality information, you may need some assistance. Each vinyl flooring has different strengths and weaknesses. With other pros and cons, let's read the quality guide below? It will be beneficial in deciding on the right vinyl floors.
Types Of Vinyl Flooring
Vinyl flooring exist in three basic types
Vinyl sheet
Luxury vinyl tiles or Vinyl tiles flooring (LVT)
Vinyl planks or luxury vinyl plank flooring (LVP)
Vinyl floors are one of the high selling floorings in the market. It is often compared with laminate or linoleum floors. Vinyl flooring comprises human-made synthetic products that are designed to simulate the look of hardwood and natural stones. Vinyl is a great flooring option with incredible characteristics such as high durability, easy installation, and minimum care. 
With versatility in shapes and designs comprising sheets, tiles, and planks, vinyl material is one of the most significant flooring categories in the construction market. The first material is first; let's keep one thing straight in mind. Read in detail How to choose best vinyl plank/sheets/tiles flooring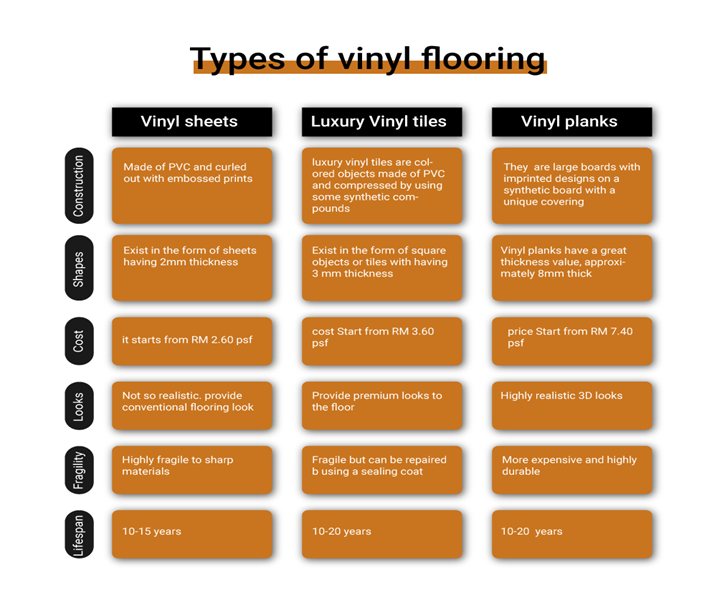 Today's Vinyl is not just like your grandmother's traditional floor. Luxury vinyl flooring is not like outdated 1970s prints and low-quality material. In 2020 vinyl flooring can provide a classical look and a unique style to your dream home.
Vinyl Planks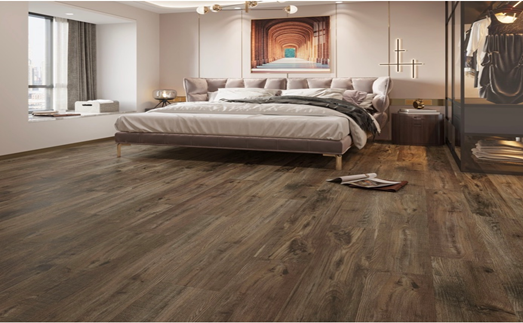 Vinyl plank flooring is the most popular of all vinyl flooring options. Luxury vinyl planks come in top-quality vinyl floors. Read more in Advantages of vinyl plank flooring Planks simulate the realistic look of solid hardwood.
It offers feelings of warmth and provides a classical look to your foundation. Both hands scrapped and wired brush textures are available. Best quality vinyl plank flooring is available at Columbus flooring city.  You can also read Ultimate guide to luxury vinyl plank flooring
However, vinyl plank flooring has specific pros and cons like other flooring types
Vinyl Plank Flooring                    
| | |
| --- | --- |
| Pros | Cons |
| Elegant like hardwood | Not actually feels like hardwood on touch |
| Myriads of colors, designs, and textures | Release volatile organic compounds with time |
| Available in a wide variety of width and lengths | Non- biodegradable |
| Suitable for any room | Colors fade in direct sunlight exposure |
| Easy installation, usually follow  floating structure or click-lock strategy | To quality, vinyl plank flooring is costly |
| Top-notch flooring when compared with engineered wood or hardwood | Quickly develops scratches and dents |
| Easy to clean and maintain | Cannot be easily repaired on damage |
| planks are 100% waterproof | Difficult to remove and replace |
| Excellent quality vinyl planks are fantastic for both commercial and residential purposes | Needs proper subfloor preparation |
Vinyl Tile Flooring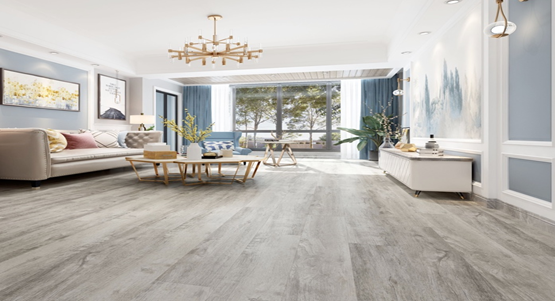 This is one of the best quality vinyl floorings. LVT has an outstanding contribution to the Do-it-yourself flooring installation industry. LVT comprises large square shape tiles that firmly put an impression of stone in the first look. The primary reason behind using vinyl tiles is easy replacement whenever they encounter destruction.
You can make your desired pattern with the latest vinyl tiles that further enhances the look. Luxury tiles are an excellent option for adding redo and decor in your bathrooms. With peel and stick, strategy vinyl tiles modify the entire face in the blink of eyes. Incorporating high-quality vinyl floor tiles is now not more of a big deal.  Buy your favourite texture and pattern from Columbus flooring city Ohio.
Vinyl tiles
| | |
| --- | --- |
| Pros | Cons |
| Simulates the natural look of stone and ceramics | On touch, vinyl tiles do not feel like real hardwood. This is a top-quality parameter for most the homeowners |
| Easy peel and stick installation process | You can only save money on installation else it is quite expensive than other flooring options |
| Top-quality vinyl tile provide feelings of warmth and comfort | Not of high quality. |
| Good resilience | Quickly develop scratches and dents on hard interaction of objects |
| Works well in all environments incredibly efficient in cold areas | Wear layer varies from type to type |
| Easy to care | Require extensive cleaning |
| Latest vinyl tiles have god waterproofing characteristics | Only top qualities are waterproof |
| Top-quality vinyl tiles provide a graceful look in contemporary homes | Not so famous like vinyl planks |
| Homeowners favorite choice | Beauty fade over time |
Sheet vinyl flooring 
Sheets vinyl are common names as vinyl rolls. Because of their role like appearance. vinyl sheet have an easy installation or lay down mechanism. Sheets are made up of original vinyl material.
 This is the only thing that people know about traditional Vinyl. Excellent quality vinyl sheets come in multitudes of sizes, textures, and prints.Luxury vinyl sheets are not as much a favourite as tiles and planks of Vinyl because of their sheet-like appearance.
These are a superb choice for commercial places because of their higher affordability. Best quality vinyl sheets need professional installation at a high cost. Unfortunately, it does not belong to the DIY installation category.
 Sheet Vinyl flooring
| | |
| --- | --- |
| Pros | Cons |
| A least expensive vinyl flooring option | Not capable of providing realistic hardwood looks |
| High-quality sheet vinyl flooring has Wonder looks and designs | Top-quality sheet vinyl flooring needs professional installation. It's not DIY friendly |
| Top-quality Vinyl exist in a plethora of textures | High cost |
| Highly resilient works well In bathrooms and kitchens | Not a good option for living rooms and bedrooms |
| Waterproof sheet vinyl is an excellent option for high traffic areas | Not favored by homeowners because of cheap materials in residential spaces |
| Provides warmth and safe walk | Release toxic compounds |
| The right choice for a tight budget | Very difficult to remove |
Conclusion
Vinyl flooring exists in three main types' sheet vinyl flooring, vinyl planks, and vinyl tiles. Each category has different pros and cons. You can decide the style that suits you best in your place. Quality depends on basically two factors. Thickness and wear layers.
The higher the thickness higher will be the quality. Vinyl is an outstanding choice for all home styles. Let's be ready to have your dream home with luxury vinyl flooring.
Frequently Asked Questions
1. Can You Place Vinyl Flooring Over An Uneven Floor?
 Perhaps! Vinyl flooring works great even on uneven floors. Vinyl is a good option for all kinds of floors. It is a highly durable and versatile option. Realistic 3D looks and modern technology has made this flooring favorite among homeowners.
2. How To Select Vinyl Flooring?
There are specific parameters to select the right type of vinyl flooring.
For the right flooring selection
Consider the area type
Calculate the traffic
Find out appropriate maintenance tips
These aspects will help you in selecting the right vinyl flooring.
3. How Long Do Vinyl Tiles Last?
It last from 10-20 years or more. Lifetime depends on the care and maintenance routine. If you clean vinyl tiles daily by following the cleaning guide, you will have a glossy foundation for a long time.
4. Can Vinyl Planks Be Reused In The Future?
Yes, vinyl floors can easily be reused. As far as vinyl planks are concerned, vinyl planks come in large sizes, and if adequately removed from the floor, they can be easily reused for other purposes.
5. Can I Put Sheet Vinyl Over Sheet Vinyl?
Yes, it's possible to place a vinyl sheet over an already existing vinyl sheet layer. But it is only possible in the case when the already existing floor is in good condition.
In the second opinion, it is possible if the already existing underlayment is challenging to remove. You can use plywood for better durability between the two floors.