Vinyl is a highly resilient, highly durable, and amazingly versatile flooring option one can ever buy. Flooring is available in many options. Primary forms include vinyl planks, vinyl sheets, and vinyl tiles. This item is highly waterproof and can be used in any part of the home.
If you plan for a floor renovation in your home with a great product with many properties, blink your eyes and imagine vinyl. Renovate your floors with excellent products that are equally durable, stylish, and everlasting beautiful.  Withstanding the choice of vinyl floors is indeed astonishing.
Although it seems like a laminate, it's frantic enough. Vinyl in it's either of the forms is highly flexible, easily adaptable, and affordable flooring. Just out of the box, Luxury Vinyl flooring is waterproof. Availability of styles and designs will stun you up to a great extent.
If you talk about minds worldwide, vinyl in any form is considered vinyl, and conversation is arguable. Vinyl floors are now not more like your grandmother's floor. Anyhow this is not true anymore.
 If we talked about the past when vinyl got popular, manufacturers and producers began to bargain on cost and quality. Brand and quality got a variation. But it would help if you were much clear about the fundamental differences in the vinyl planks, vinyl sheets, and vinyl floors.
How you can decide on the Best features, and what are the basic considerations. Let's discuss further.
 Here are some important considerations that you must consider to choose the Best vinyl floor. Confused yet? Don't worry. No matter what form of vinyl you will select, either Vinyl plank, vinyl sheet or vinyl tile, some aspects are always the same. 
Given below are some mutual considerations. Let's dig further
Important Considerations For Selecting Vinyl planks / Vinyl sheets / Vinyl tiles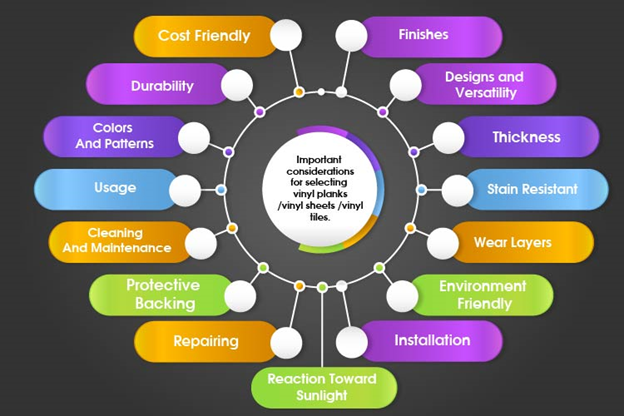 Finishes
Cost Friendly
Durability
Designs And Versatility
Colors And Patterns
Thickness
Stain Resistant
Usage
Cleaning And Maintenance
Reaction Towards Sunlight
Environment Friendly
Protective Backing
Repairing
Installation
Consider the Type of Best Vinyl flooring
Just like other flooring options, vinyl comes in various types. Vinyl flooring has many options, such as vinyl planks, vinyl sheets, and vinyl tiles. The first and foremost step to selecting the Best foundation for your home is deciding on the type. To have a more clear idea for a life proof vinyl flooring.
Read about all the options
1. Vinyl plank Flooring
This flooring is the homeowner's favorite. Highly demanding, and the main reason behind its high selling rate is high durability, least maintenance, and resistance against harmful incidents. Easy to install and wood-like look is making the flooring popular.  Vinyl planks flooring is cost-friendly and works well in all areas. Read Advantages of vinyl plank flooring.
2. Vinyl Sheet Flooring
Vinyl sheet flooring is also known as bathroom vinyl flooring. It is ideal for places that continuously interact with moisture. Water prone areas, including mudrooms, look great with waterproof Vinyl sheets. This is an expensive option.
3. Vinyl Tile Flooring
Vinyl tile provides a seemingly endless classical look. It works well in contemporary homes with a great stunning look.  Vinyl tiles transform the room look into a lively appearance.
 Vinyl flooring is selling just like smithereens.  Homeowners love the product because of its unique features. DIY installation of vinyl flooring one of the leading factors behind its sale. read 5 reasons to buy luxury vinyl tiles in the blog section for more information.
1. Look At Vinyl Finishes Or Wear Layers
Vinyl has lasting, beautiful finishes.  Before deciding on the purchase, look at the types of Vinyl finishes first. There are three main finishes available for all kinds of vinyl flooring
● No Wax Finishes
This vinyl flooring finish works perfectly in the low traffic areas.  It works Best in the areas that are least prone to get damaged by dirt and spills.
● Urethane
Highly durable finishing option.  Easy to clean and maintain. However, it will not work Best for high traffic areas such as commercial places.
● Extra Urethane Or Enhanced Urethane Finish
This is an extra coating of urethane. Mainly designed for the areas that suffer from high traffic. This is the right choice for places that are prone to get damage and get scratched easily.
2. Either It's Cost-Friendly
 Consider the option but consider cost as well.   Any product is worth buying for it stays within your budget.  Vinyl flooring is a budget-friendly option, and you can easily choose one. Vinyl plank flooring is relatively less costly and highly durable. Vinyl tiles give a luxurious look and are a bit expensive but not too much.
Vinyl sheets lie in between the two and easily obtainable.  When you compare the cost of vinyl flooring with hardwood and ceramics, it is always cost saving.  However, you can choose any one of these that will work well in your home on behalf of the cost. You can find affordable vinyl flooring from Columbus flooring city Ohio.
 3. Consider Durability
Vinyl is a highly durable material. Durability mainly depends on cleaning and maintenance. If you take proper care of luxury vinyl flooring, it can last more than 20 years.  As long as the quality and durability are concerned, vinyl is among the top choices.
Wear layers will also enhance the lifetime of vinyl plank flooring and vinyl sheet flooring. Vinyl tiles come with a unique wear layer, and it adds more lifetime than without these layers. for more detailed information read Quality guide for vinyl plank flooring what is best?
| | | |
| --- | --- | --- |
| Vinyl planks | Vinyl sheets | Vinyl tiles |
| Looks like hardwood | Capability to make only one remarkable design | Available in no of styles |
|  Versatile and multitudes of designs and patterns | Limited designs |  Customized designs |
| Easy installation | Installed in large pieces, either one or two |  Can be installed in any desirable location |
| Great practical value and becoming homeowners first choice | Highly practical | Easy to replication  |
|  Highly durable | Not extremely durable |  Highly durable |
| Environmental friendly and resistant to damage |  Need effortful repair |  Withstand the environment over a long time |
|  Straight without any curls |  Usually got curls because of storage in the form of rolls | Usually flat without any curls |
|  Difficult to transport | Difficult transportation | Easy to relocate |
| Can be recycled and reused | The material can be recycled. | Made from and can be converted into recyclable materials |
|  Cost friendly flooring option | Highly expensive | Less expensive don't enhance |
|  Remarkably enhance the resale value in the real estate market | Resale values are not increased. |  Increase the resale value in the real estate |
4. Have a Glance at Colors and Patterns
 Consider colors and patterns that work well with the entire home look. Try comparing the interior embellishments with vinyl flooring. Colors play an integral role.
Flooring is your home's foundation as well as the focal point for any visitor. Try rich, subdued, and dark color tones with traditional or contemporary decoration.  Colorful flooring seems like a welcome note for visitors. Black vinyl flooring looks great in any home.
5. Designs Variability
Some might say that vinyl flooring's design options are its most outstanding feature; vinyl's versatility makes it a homeowner's favorite. With so many different colors and patterns of vinyl flooring, your options are nearly endless. For instance, you can combine solid and composite vinyl to create unique, random patterns. Or consider printed vinyl. With it, you can create the look of stone or hardwood without the expense of using those natural materials.
6. Easy Installation
Vinyl is easy to install as compared to hardwood and ceramics. Vinyl sheets don't require any staples or glue adhesives. It's floating, and you can place it directly on the floor. Vinyl plank flooring is also DIY installed. You can peel off the sticker and place it on the subfloor. It's suitable for all kinds of subfloors, either ceramics, wood, or marble. Keep in mind it's not suitable for two or more sublayers.
7. Resistance
Perhaps this is one of the most overwhelming questions. Kitchen vinyl flooring or bathroom vinyl flooring needs to be stain resistant.  For stain resistance, vinyl tile is considered as one of the classic choices.  Vinyl tiles have a strong wear layer, and they are highly resistant to develop stains and spill spots.  On the other hand, vinyl planks are not highly resistant and don't ensure any lifetime resistance. sheets and vinyl planks need constant striping and repair as compared to luxury vinyl tiles.
8. Thickness Levels
Vinyl is a comfortable and convenient flooring option. Flooring is soft under feet.  sheets and tiles come with extra padded layers that will make it even more comfortable. The resilient vinyl is worth it for soft and smooth use.
 Vinyl flooring is right in absorbing sounds and echoes. Noise resistance is another feature behind its popularity. Vinyl plank flooring is Best for traditional homes.   You can buy vinyl floors today from Columbus flooring city. Read more in Ultimate guide to luxury vinyl plank flooring
9. Appropriate Usage
Because of higher durability, vinyl flooring is an excellent option for every area in your home.
Best for bathrooms and kitchens.
Luxury vinyl tile works best in the bedrooms and living rooms.
Vinyl plank flooring works great in the laundry rooms, backyards, and exteriors.
10. Maintenance
Maintenance is the key to the enhanced life span of vinyl flooring. The latest flooring is straightforward to maintain. You don't need to take extensive care. Maintenance is just like a breeze.  Just mop it regularly to remove grime and dirt. Never apply abrasive chemicals on vinyl floors. This will damage its gloss.
11. Protective Backing
You may not have a clear idea about the things that you cannot observe on the surface. Yes, there is something else. A protective backing layer on the bottom side is equally essential as the top sides.  The backing is mainly destined to hold moisture and extra mildew. You can follow the rule of thumb here that thicker is better. More resistance will be durability.
12. Vinyl Repairing
Vinyl plank flooring, vinyl sheets, and vinyl tiles are more or less equally durable.  Repairing of vinyl depends on the quality. Low-quality flooring is susceptible to damage easily. Low-quality material cannot handle rough wear and tear.  In the case of vinyl sheets, repairing is a big challenge. Vinyl floors are the least repairable and only be replaced with the new ones on the damage.
 13. Reaction towards Sunlight
Vinyl is susceptible to damage from sunlight and heat exposure. If placed in direct sunlight, vinyl in any form gets damaged quickly, and colors will fade away. Try hanging curtains over the windows or in the backyard to avoid any damage so that sunlight will not affect the flooring.
As should be obvious, It settles on an extraordinary decision for the vigorously dealt with rooms in your home. With its strength, prudent estimating, and necessary support, it's a famous decision for individuals who wish to improve their home's appearance. With the significant number of plan alternatives accessible, vinyl gives various alluring looks and wraps up.
Final Note
Luxury vinyl plank floors are not like traditional vinyl. Latest prints and embossed designs are the gateways to the beautiful and beautiful foundation of your home. It provide a more authentic feel than ever.
Now you get vinyl in various textures, designs, and patterns. Vinyl is an outstanding choice for high, moderate, to high traffic places. It withstands water and in easy reach imprint, scratch, stain, or blur. It's tranquil and arrives in a wide assortment of shadings and plans, and it's peaceful and simple to introduce.
Frequently Asked Questions
1. Is Sheet Vinyl Flooring Durable?
Yes! Vinyl sheet flooring is highly durable. If it is maintained and cleaned perfectly, it can last up to more than 20 years. Vinyl sheets have good wear layers and strong protective backing that resist all the dents and scratches over them.
2. Do You Need Any Underlayment For Sheet Vinyl Flooring?
It depends on the already open floor. To avoid all kinds of flaws, and to maintain floor level, try using some right underlayment. Underlayment will help in providing a flawless floor.
3. Can I Install Vinyl tiles Over Vinyl tiles?
Vinyl tiles can easily install over the already existing vinyl tiles. Anyhow it depends on various factors. Primary factors include the condition of the floor, level, and ratio of incidents occur previously.
4. How to Clean Vinyl tiles?
Don't apply abrasive chemicals or any wax for cleaning vinyl tiles. Use a mild solution and slightly damp cloth to maintain its shine.  Vinyl is prone to damage if you try to treat it with harsh detergents and chemicals.
5. Can Vinyl planks Be Reused?
Yes, it's true. Vinyl planks can be reused unless they are in good condition; if they are extensively damaged, the quality will not be the same as an original vinyl plank.
6. Can Vinyl plank Floor Be Glued Down?
 Glued down vinyl planks are placed on the floor by using some adhesive materials. The adhesive is either the hardest or pressure set.  Glued down vinyl plank flooring is very easy to install.