Popular Materials for Hardwood Flooring in Dublin
Walnut Hardwood Flooring
Cherry Hardwood Flooring
Maple Hardwood Flooring
Oak Hardwood Flooring
Pine hardwood Flooring
Popular Materials for Hardwood Flooring in Dublin
Many wood species will influence the appearance and functionality of your hardwood flooring near Dublin Ohio. Below are some popular ones that you can choose for your new floor.
Walnut Hardwood Flooring
Cherry Hardwood Flooring
Maple Hardwood Flooring
Oak Hardwood Flooring
Pine hardwood Flooring
Hardwood Flooring Installation Creates Unique Design
Hardwood flooring installation is very customizable. You can install it in wide plank sizes or thin strips and experiment with different lengths, widths, and patterns for a unique design. Other installation techniques include different edging, such as square or beveled edges.Another thing to consider is board thickness. Thicker boards are popular because you can refurnish them more times. Installers also offer special sealants, coatings, and finishes for your floor. They protect the surface while giving you unique surface textures. You can get flooring pieces either pre-furnished or furnished on-site from Columbus Flooring City.
Tekawood Flooring Products
Appalachian Flooring Products
Where Should You Install Hardwood Flooring
If it is properly cared for, wood flooring Columbus Ohio, in these parts of your home for years to come:
Living Room: Hardwood flooring in your living room will provide a cozy look and feel.
Dining Room: You can find hardwood flooring to match whether your dining room is super formal or has a more casual family vibe. Just wipe up any spills right away to avoid damage.
Meanwhile, hardwood flooring should be avoided in these areas:
Bathroom: Water is the enemy of hardwood floors. The bathroom always has water coming from somewhere. If you choose hardwood, your floor can be ruined easily.
Laundry Room: Washing machines can get a leak. Clothes can drip. You can spill detergent or fabric softener.
Materials That Make Engineered Hardwood Flooring Durable
The species of engineered hardwood flooring may vary. But when it comes to the material, it is mostly based on wood (plywood), wood fibers (high-density fiberboard), and laminate. The waterproof engineered hardwood is crafted from several plywood layers, although on the top, it's fully natural wood to offer a look and feel of originality. On the core, there are precisely pressed layers of plywood to make it sturdy, solid, durable, and water-resistant. Visit Columbus Flooring City in Dublin, Ohio to discover our vast collection of the best engineered hardwood flooring right away.
Hardwood Flooring Is Cost-efficient
Hardwood flooring costs range from $1 per square foot to $10 per square foot. The price for different hardwood flooring species can vary significantly. But you get what you pay for. Primarily, the price difference is due to the fact that hardwood takes longer to grow, making it scarce and expensive. While the overall investment for some durable hardwood options can be a lot, you must remember that these materials will last much longer than other flooring options. The softest woods will last longer than carpet and cork, while a solid, well-maintained oak floor can last for generations. So, buying authentic hardwood floors from our store in Columbus, Ohio will make your investment worth it since it'll serve your flooring needs in the long run.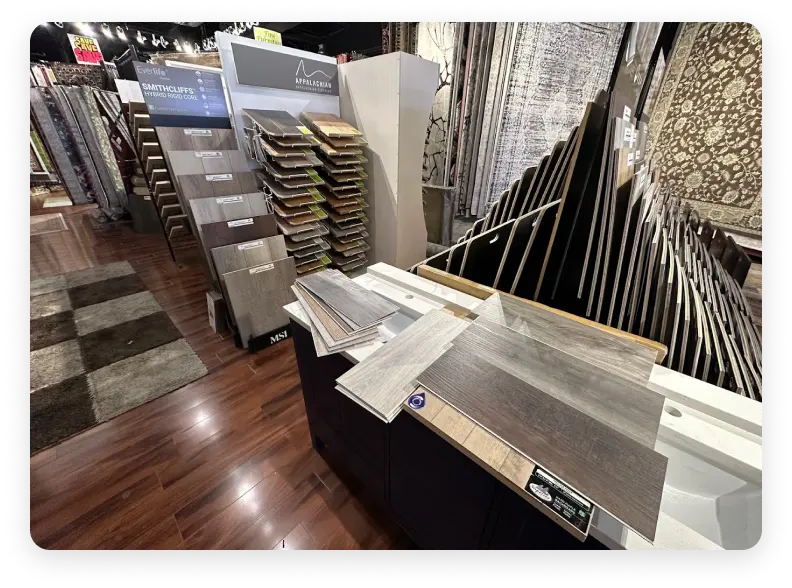 Popular Color Options For Wood Flooring
Before you search for wood flooring near me, you need to know the common colors you can buy. No two wood pieces are the same, but below are the 5 most popular ones. These are the color combinations that we feature here at our flooring store in Columbus, Ohio:
Gray tones (light to dark)
White-washes and tones
Honey & light brown tones
Walnut & dark brown tones
Warm red tones
What Type Of Hardwood Flooring Is The Best?
The best hardwoodflooring is made with readily available wood species that are very hard. Oak, maple, and cherry are all options you can go for. Other species are bamboo (which is grass), walnut, ash, and mahogany.
How Much Does It Cost To Install 1000 Square Feet Of Hardwood Floors?
The cost to refinish hardwood floors is between $6 and $12 per square foot. That averages to $3 and $7 per square foot for materials and $3 to $5 per square foot for labor. A rough estimate for 1,000 square feet of hardwood flooring is between $6,000 and $12,000.
What Is A Disadvantage Of Hardwood?
Since it is dense, hardwood is much harder to work with during construction. Hardwoods are generally more expensive, but you get what you pay for. Furthermore, you will need to refinish hardwood floors in high-traffic areas in the future, which can also be quite costly.
Is Hardwood Better Than Laminate?
Hardwood floors last much longer than laminate, though they need occasional refinishing. It's also usually easier to repair a hardwood floor, often with sanding and staining, whereas damaged laminate needs to be replaced.