Whether it's your residential space or your office flooring is a crucial element. It's just like a bold statement that adds aesthetic value and attractive appeal to your place. Depending on your choice, taste, and colour, there are myriads of types available in the market that boost your entire space.
Before deciding that either you want hardwood flooring, engineered wood flooring, or the luxury vinyl flooring in your home, you must have a clear idea why flooring is essential.
Whenever anyone enters your home, subconsciously the first thing that is a central focus is your flooring. More or less it is one of the main constituents that contribute to a high real estate value.
With its unique values, adds a flair and tang to your residential and commercial areas. With updated colours, fantastic texture and ultra-high quality floors can change the space by making its more extensive, comprehensive and cosy.
Now without investing so hard, you can maintain a perfect look with just right floors.Not just an improved home flooring also contributes to providing a healthy lifestyle as well. Ideal floors improves the acoustics in your home.
It's all up to you whether you want to move on a hard concrete while coming out of your bed or really to enjoy the soft plush feel like a rug. Just read about all the flooring that you may have in your home.
Without adding more ado, lets read about the three main types of flooring.
Hardwood flooring
Solid hardwood flooring is one of the worth buying floorings. Asides from its natural source this wooden floors are pure, and a unique texture adds a great look as the name indicates that this is pure wood and derived from the solid hardwood sources.
Hardwood constitutes the thickness of ¾", but the thickness varies according to your very own choice and need. Relatively older homes may need some thicker boards rather than the new ones. '
Hardwood flooring is highly recommended for both commercial and residential spaces. You can incorporate solid hardwood floors in living rooms, dining rooms, corridors, hallways, and bedrooms.
Wood is prone to moisture, so avoid using it in bathrooms and kitchens. To keep the floors out of warping, make sure to place rugs or area mats over the surface.
There are certain types of hardwood that you can incorporate just like, maple hardwood, oak hardwood, hickory and cherry. Columbus flooring city offers you the affordable flooring within the Columbus area.
Hardwood flooring derived from natural resources is getting popular among the homeowner. A broad patina and a wonderful texture are the critical features for incorporating this natural floor in your space. Home remodelling with hardwood is expensive but appealing up to a great extent.
Read 14 Tips to Buy Hardwood flooring
Advantages of Hardwood flooring
Solid hardwood flooring is a fantastic choice. Beyond providing a natural feel and lively look to the floors, certain benefits are associated with the hardwood floor.
Eight main advantages of hardwood flooring are
It broadens the home's look.
Easy maintenance and cleaning
High durability
Adds resale value
Highly versatile
Cost friendly and log lifespan
Consistent colours
Improve Acoustics in Your Home
1. It Broadens The Homes Look
Wooden floors are significant elements that provide elegance and warmth to your entire home. Hardwood flooring is a beautiful choice to give a broader outlook to your whole family. These floors undoubtedly enhance the overall impact of your home.
2. Easy Maintenance And Cleaning
Hardwood flooring is easy to clean and maintain. This is capable of providing outstanding floors. Easy to clean and environmentally friendly hardwood has been used for the last many years. It is not hazardous and also a safe choice for kids.
3. High Durability
Before choosing any flooring, durability is the primary concern of all the homeowners. One of the leading advantage over the other types is its high-end durability. It does not develop scratches quickly. Take proper precautions, and the hardwood will serve the lifetime.
4. Adds Resale Value
Hardwood flooring enhances the resale value of your home in the real estate. Hardwood is one of the leading floorings that adds worth. Most buyers don't want to add rugs in their homes when they find out the wooden choices. They readily agree to pay more.
5. Highly Versatile
Hardwood flooring is highly versatile. It fits in all the designs and decorations. Make your home embellishments according to the hardwood colour and texture. This will give a great glamour to your entire space.
6. Cost Friendly And Log Lifespan
Hardwood floors are not difficult to keep up, strong and give better air quality. However, they can be costly, correct? Contingent upon the other foot you are thinking about, wood floors might be a more expensive choice to buy. In any case, there are a couple of variables you ought to consider.
Consider the drawn-out expenses. Wood floors are simpler to spotless and more averse to be harmed. This will decrease your cleaning or fix costs throughout the long term.
Furthermore, because they are so sturdy, hardwood floors can keep going for ages. This enduring quality makes them a financially savvy choice. It could be somewhat more forthright, yet eventually, it will set aside cost.
8. Consistent Colours
One of the leading advantages of hardwood flooring is its colours. Colours will not fade away and remain consistent over a lifetime.
9. Improve Acoustics In Your Home
Depending on the hardwood choice, you can also improve overall home acoustics. Hardwood is good in absorbing unnecessary sounds and vibrations. Now make your home less noisy and calmer.
Engineered wood flooring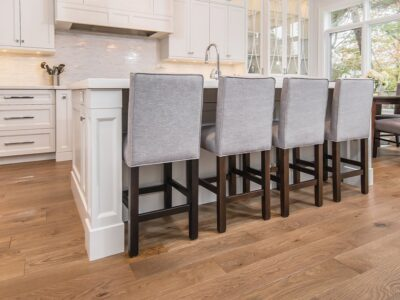 Engineered wood is not like solid hardwood flooring. This contains multiple layers, including wood veneer. The upper layer is the same as hardwood, but the lower layers constitute some other materials such as plywood and low-grade wood. Engineered wood is useful in dealing with high moisture levels.
Engineered wood floors are designed for places that are more vulnerable to climatic conditions. They are useful in dealing with heating systems of the building. Upper surface mimics the solid hardwood strongly, but it's not like real hardwood.
Like solid hardwood, there are plenty of choices in the engineered wood floors. You can decide on the texture and colours. At Columbus flooring city, a lot of textures and sizes are available.
Engineered wood flooring is designed so that it can easily handle all the variations both the external and internal. Better suitability and affordability are making engineered wood a leading choice among constructors and homeowners.
Read Tips to Buy Engineered Wood Flooring
As it is clear that top wood is real hardwood, so there are equal choices for this just like hardwood. Engineered wood flooring also has a different thickness that depends on the wooden spices. It is undoubtedly dimensionally more stable.
Advanatges of Engineered wood Flooring
Engineered wood floors have eight significant benefits.
Economical
Mimics Strongly Hardwood
Top Wood
Resilient
Highly Compatible
Easy Installation
Amazing Choices
Refinishing
1. Economical
Engineered wood is an economical flooring choice. Unlike hardwood, that is expensive, and it is affordable. These floors can work in all kinds of homes.
2. Mimics Strongly Hardwood Flooring
Engineered wood flooring is just like original hardwood in visual appearance. Unless and until you tell yourself nobody is capable of distinguishing between the two. Once it's installed it visually appears like solid hardwood.
3. Top Wood
One key advantage of engineered hardwood is that it has a top layer of original hardwood. Unlike laminates, it has a strong topping. Principal wood is derived from natural sources.
4. Resilient
Latest engineered wood floors are resilient. They are less prone to climatic variations. Floors can easily handle the fluctuations. Unlike hardwood, they can quickly deal with heat and moisture.
5. Highly Compatible
These are the compatible floors with heating systems underneath the bed.
6. Easy Installation
Engineered wood floors are easy to install. You don't need to have any professional consultation. This flooring has a click-lock fittings system.
7. Amazing Choices
Engineered wood floors are available in many types, just like hardwood species engineered wood is also available in many species including oak, hickory, maple, cherry, etc.
8. Refinishing
Engineered wood has a smooth and soft refinishing. Once it damages you can easily resend it in the next while.
Vinyl flooring
Perhaps vinyl flooring is the top choice when it comes to flooring. Vinyl is also known as resilient floor or luxury vinyl floor. Undoubtedly it is the most used flooring in the United States since the last many decades. Latest vinyl floors are different from the historical vinyl that is often regarded as the cheap choice.
As far as the variety is concerned this polyvinyl chloride-based is available in tiles, sheets and planks. It is available for both residential and commercial use. Resilient vinyl accounts for primary flooring in the world.
Luxury vinyl is excellent in durability, and can handle gouges, dents, trips and falls quickly. Easy to maintain and high-end flooring is a leading choice for home remodelling. Vinyl is good in absorbing moisture and the best choice for moisture-prone areas. You can use luxury vinyl planks in bathrooms, living rooms, kitchens and bedrooms.
Advanatges of Vinyl flooring
Let's discuss the ten main advantages of vinyl flooring.
Cost Friendly
High-End Durability
Amazingly Versatile
Provide Warmth
Easy Mainatiannace
Installation
Diverse Designs
Easy To Replace
Moisture Resistance
Lifespan
Let's discuss each advantage in detail.
1. Cost Friendly
Luxury vinyl is a cost-friendly flooring choice. You can buy it conveniently without crossing your budget. At Columbus flooring city vinyl floors are available in an affordable range.
2. High-End Durability
The vinyl floor does not develop scratches. It's highly durable. Resistant damage by external objects is one of the vital advantages of vinyl plank.
3. Amazingly Versatile
Vinyl floors are available in various colours, textures and tones. You can select a favourite colour that goes entirely right with home interiors.
4. Provide Warmth
Vinyl tiles are so smooth. These tiles are capable of providing warmth and a cosy environment. 10 Tips to Decorate with Vinyl flooring
5. Easy Maintenance
This is one of the best choices concerning maintenance. Vinyl floors probably need the least care. Weekly moping and just damp cloth cleaning will retain its everlasting look. You can also use a soft Swiffer pad.
One pro tip is that never try to clean vinyl with hot water or steam – vinyl planks are waterproof, and moisture will go down to subfloors damaging the entire look.
6. Installation
Vinyl floors are also called DIY project. Luxury vinyl is easy to install. You don't need to invest a lot on the installation, just like hardwood flooring. Click lock mechanism is easy to follow.
7. Diverse Designs
Perhaps one of the main reasons behind vinyl plank flooring is its ability to hold on to many alluring visuals. Deigns, patterns, prints, and styles on vinyl planks are unimaginably authentic. It gives your floor deeper and borders aesthetic appeal.
Vinyl plank is resilient flooring. It supplies high-quality illustrations that no other floors can ever provide.
8. Easy To Replace
Vinyl floors are easy to replace. Once the floor is damaged, you can return the area with new flooring. This advantage makes its great choice for home builders.
9. Moisture Resistance
Vinyl does not hold moisture. It is an excellent choice for bathrooms and kitchens. Water prone areas susceptible to damage vinyl is indeed a perfect choice for such places.
10. Lifespan
Vinyl flooring has a long lifespan. Depending on the care and maintenance, it can last up to 20 years.
Comparison of Hardwood Vs Engineered Wood Vs Vinyl Flooring
| | | |
| --- | --- | --- |
| Solid Hardwood flooring | Engineered wood flooring | Vinyl flooring |
| Wood From natural plants | Wood From plants | Polyvinyl chloride and resins mixture |
| The entire flooring is made of wood. | The only top layer is wood. | Entirely plastic |
| Oak, maple, hickory cherry | All species just like hardwood | Made of synthetic compounds |
| Thickness depends on the tree. | Thickness depends on the bottom layers. | Not highly thick |
| Expensive | Affordable | Highly affordable |
| Amazing textures and designs | Unique designs and texture just like real wood | A comprehensive collection of colours and prints |
| Vulnerable to climatic conditions | Least liable to get damaged by heat and water. | Vulnerable to excessive heat |
| The not right choice for high traffic areas. | Good for moderate traffic | Best for high traffic area. |
| Not hazardous | Not harmful | Release some VOCs after installation |
Conclusion
All three floorings hold certain advantages and disadvantages. Columbus flooring city is making a high effort to satisfy the customers. Hardwood flooring is from natural sources, and it's real wood.
Engineered wood flooring is less liable than solid hardwood. Both vary in properties entirely. On the other luxury vinyl is today the most appealing yet most affordable flooring choice.