Different types of vinyl flooring :Luxury Vinyl Sheet vs. Luxury Vinyl Tile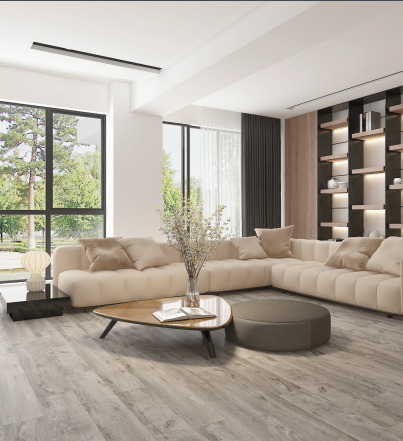 For the last many decades, vinyl floors serve as the practical and functional foundation of your home. Luxury vinyl flooring is the first-rate choice for selecting a budget-friendly and affordable home floor renovation. It works best in both utility locations as well as in water prone areas.
The traditional vinyl floor comes in two primary forms. One is a luxury vinyl sheet, and the second is a luxury vinyl tile. Both are composed of synthetic compounds with no natural ingredients.
The first and foremost thing in any flooring development is to choose the right material. For example, if you have decided on vinyl, Read Advantages of vinyl plank flooring then the second thing to venture on is to plan the right type that will work most suitably. Owing to a wide variety, it is quite challenging.
Each vinyl flooring type, either its vinyl sheet or luxury vinyl tile, has distinctive styles and patterns. No class can be the alternative pf other. Vinyl tiles and vinyl sheets have different characteristics and also vary widely in benefits.
To have a clear concept about the two types we are here with every bit of information that helps you make a better decision.
NOTE: let's discuss one by one each type
Deciding on a new home flooring with a considerable Variety is not so easy. Apart from deciding on the flooring, you need to consider three basic parameters for making an ideal decision.
Determine the type of area. Different vinyl floors work differently.
Analyze the traffic.
Understand the style and interior embellishments of your residence.
The latest Vinyl flooring is not less than a blessing. Apart from being highly versatile and functional, vinyl adds incredible warmth and a realistic look to your floor.
let's discuss in detail
Looks
Water resistance
Heat resistance
Durability
Care and cleaning
Sound resistance
Life span
Pet friendly
Installation
Cost
Resale value
Luxury Vinyl Sheet
The luxury vinyl sheet comes in the form of long rolls. Rolls mainly constitute 6-12 feet of vinyl. Vinyl sheets usually involve a tricky installation process. Sheets are cost-friendly, and you can renovate your whole place in a reasonable amount. for more information Read How to choose the best vinyl plank/sheets/tiles flooring.
This vinyl flooring category is considered a leading option for large areas, most probably for commercial places. During the alignment process, there is not any seam.
Life proof vinyl sheets are highly affordable, ultimately durable, and can be used over any sub layment. Top-quality vinyl sheets are popular and designed for high traffic zones. Colored vinyl sheets are created by embedding the strong granules. Vinyl sheets have strong resistance against scratches and dents. There are certain specific properties of luxury sheet vinyl.
All of them are explained to help you in the more appropriate selection
Looks of Luxury Sheet Vinyl
Along with the least cost, vinyl sheet floors powerfully simulates the hardwood, ceramics, and natural stone-based floorings. Undoubtedly a wide variety of designs and patterns is the main reason behind its extraordinary fame. Sheet vinyl is versatile up to a great extent. The vinyl sheet also follows some random patterns that also look pronounced.
Waterproof
One of the quite probable advantages of the luxury vinyl sheet that it can directly lay down. It can now be installed in unbroken fragments. Perhaps you will not observe any running seams. Top-quality vinyl sheet is resistant to moisture.
It serves as an exclusive barrier to water. Luxury vinyl sheets have adequate thickness and work extensively in moist areas such as bathrooms. To make sure that sheets work best, you have to review again that there is no place left. All the corners perfectly adhere. Bonds and sealing play a vital role in ensuring the proper working of waterproof vinyl sheets.
Heat Insulation
Luxury vinyl sheets have no excellent resistance to heat. It quickly gets damaged upon encountering hot objects. Indeed, vinyl sheets are not repairable. If you place a hot object such as hot pan or hot appliances by mistake, there is no other option besides replacing the existing sheet.
Durability
Vinyl floors are diffidently durable. Sheet vinyl is resilient, but it is still soft compared to other flooring options such as hardwood. Luxury sheet vinyl is prone to gouging and tearing. No doubt this is an affordable option, but a little mishandling will lead to a severe consequence. An increase in dents and digs indicates floor replacement.
Therefore it is recommended that vinyl floors should be replaced after ten years. Repaired vinyl affects the overall look, and it's indeed a noticeable feature. Don't improve damaged areas yourself rather than this; try hiring some professionals for this purpose. You can also try using high-end sheet vinyl flooring.
Care and Cleaning
Concerning care and cleaning, luxury vinyl sheets are the easiest to clean among all floorings. There are simple tips that you can follow for a good cleaning
Mop regularly with smooth wires.
Apply the damp cloth with mild detergent once or twice a week.
Never apply abrasive chemical
Sound Resistance
The Luxury Vinyl sheet is cold underfoot. However, it provides warmth and completion. It is not only proficient in functionality, but it also offers soundproofing properties. Underlayment and subfloors are significant ways of giving strong echo resistance. It makes the whole environment more comfortable.
Life Span
Sheet vinyl is supposed to last for more than 20 years. If you are not maintaining it properly, you may need to replace it away right after ten years.
Pet Friendly
Vinyl sheet is made up of resilient material. Luxury vinyl sheets have no drastic consequences for the movement of pets and small kids.
Installation Of Luxury Vinyl Sheet
Luxury vinyl sheets have life proof quality. The best quality luxury sheets are easy to install. Vinyl sheets mostly come in the form of long sheets that can be placed directly. However, this process is quite tricky and needs special interpersonal skills. For vinyl sheets, it's better to hire some professionals rather than repenting later. For a beautifully realistic look, buy a vinyl sheet from Columbus flooring city.
Cost
Luxury sheet vinyl comes in the form of long and wide rolls. Standard cost analysis indicates that it varies between 0.50$ -1.50$ per square foot. Vinyl sheets are highly affordable and have a higher place in homeowners' minds.
Resale Value
Vinyl sheets are a highly economical flooring option. Because of its least cost, luxury vinyl sheets have no noticeable effect on home resale value.
Comparison of Luxury Sheet Vinyl VS Luxury Vinyl Tile
| | | |
| --- | --- | --- |
| Parameters | Vinyl sheets | Luxury vinyl tiles |
| Construction | Made of PVC and curled out with embossed prints | Luxury vinyl tiles are coloured objects made of PVC and compressed by using some synthetic compounds |
| Shapes | Exist in the form of sheets having 2mm thickness | Exist in the form of square objects or tiles with having 3 mm thickness |
| Cost | It starts from RM 2.60 psf | Cost start from RM 3.60 psf |
| Looks | Not so realistic. Provide conventional flooring look | Provide premium looks to the floor |
| Fragility | Highly fragile to sharp materials | Fragile but can be repaired by using a sealing coat |
| Lifespan | 10-15 years | 10-20 years |
Luxury Vinyl Tile
Luxury vinyl tile is considered one of the top flooring categories. Vinyl tiles are also known as LVT, and are regarded as thick flooring. Compared to other vinyl floor options, it is relatively five times more viscous. Read 8 reasons to buy luxury vinyl tiles Enhanced thickness serves as an additional glaze support in providing an exclusive realistic foundation.
Composed of 3D technology and innovation, luxury vinyl tiles provide a natural look such as hardwood or stone. Vinyl tiles are available at Columbus flooring city.
High-quality vinyl tiles are highly functional with a lot of diverse properties. Vinyl tiles are capable of providing class and contemporary texture and give a pronounced floor design. The latest Vinyl tiles are multipurpose objects. Perhaps they offer an ideal floor with a shallow price tag. In bathrooms, sheet vinyl works best, but luxury vinyl tiles are a great option in living rooms and bedrooms.
Let's discuss all the features one by one
Looks of Luxury Vinyl Tile (LVT)
Luxury vinyl tile is capable of providing a premium look. Tiles show a great display and serve a 3D realistic appearance. Mostly with the least price, top-quality vinyl tiles are capable of imitating hardwood looks. Vinyl tiles are least affected by heavy objects and probably capable of maintaining their original shape.
Waterproof
In general, vinyl floors are moisture resistant. Waterproof vinyl floors work significantly in bathrooms and kitchens. Without any doubt, luxury vinyl tiles are water-resistant, but as compared to vinyl sheets, they are comparatively less efficient in moist climatic conditions.
Heat Resistance
Both vinyl sheets and vinyl tiles are least resistant to heat. However, vinyl tiles have a relatively good ability to deal with hot appliances. It does not get damage instantly, but with constant exposure, it may experience specific damage.
Durability
Luxury vinyl tiles are highly durable. Latest vinyl tiles usually offer more stress resistance properties as compared to traditional vinyl. High-end vinyl tiles do not get damaged easily.
Care and Cleaning
Concerning care and cleaning, luxury vinyl sheets are the easiest to clean among all floorings. There are simple tips that you can follow for a good cleaning
Wipe up regularly with a smooth wire mop.
Apply the wet cloth with mild detergent once or twice a week.
Never apply scratchy chemicals on vinyl tiles.
Sound Resistance
Vinyl tiles are thick as compared to another vinyl flooring. Due to its high thickness level, vinyl tiles have an excellent ability to absorb unnecessary noise. Probably it helps in providing a soundproof comfortable living environment.
Installation
DIYers love luxury vinyl tiles. These are easy to install. It offers a peel and stick process. You can quickly renovate your home yourself. Short installation time makes it superior over other flooring options.
Pet Friendly
Luxury vinyl tiles are resistant to getting scratched. This feature makes them the right choice for homes that have some domestic pets and naughty little kids.
Cost
Vinyl tiles come in the form of square shape tiles. Luxury vinyl tiles cost ranges between 1.50$ to 3 $per square foot
Life Span
Luxury vinyl tiles usually last for 15-20 years. After 20 years, replace the flooring.
Resale Value
Top-quality Luxury vinyl tiles affect your home resale value just because of aesthetic looks. However, it's not fair to expect a higher increase in revenue.
Conclusion
Both types of vinyl, sheet vinyl and luxury vinyl tiles, have their properties. Homeowners can buy the one that suits them most. You can easily deviate from any particular feature. If you live in moist areas and water susceptible areas, then boil down towards vinyl sheet flooring. However, for DIYers, vinyl tiles perform their best function. Peel and stick vinyl tiles feature to make them adaptable in most cases.
Frequently Asked Questions
1. After How Long I Can Walk On My Vinyl Floors After Installation?
Vinyl Floors need some settling time. Never walk on vinyl floors right after installation. Vinyl floors need almost 48 hours after installation to get proper fixation.
2. Are Vinyl Floors Waterproof?
Vinyl floors have a good resistance against water. You can fearlessly use vinyl floors in water prone areas such as kitchens and bathrooms.
3. Is It Difficult To Install Luxury Vinyl Sheet Flooring?
Vinyl sheet installation process is tricky. You can do it your own but much care is needed. It is better to hire some professionals to install it perfectly. It's better to spend some money than to regret later.
4. How to Protect Vinyl Tiles?
Use some floor mats or rugs on the vinyl tiles to keep dirt and dust away.
You can use plywood sheets under furniture to reduce the extent of damage.
Never use rubber or latex based mats.
5. Are Luxury Vinyl Tile Floors Toxic?
Luxury vinyl tile floors are not toxic to a great extent. However during the processing of vinyl there are some products used that release volatile organic compounds. After installation these compounds become part of the air and affect the air quality.