Luxury vinyl tiles are getting exceptionally popular due to their high-end versatility. In the flooring market around the globe, Luxury vinyl tiles are considered as an incredible option. Regardless of your home style luxury vinyl is capable of incorporating warmth and visual aesthetics to your home.
Whether you are a home designer, architecture specialist, homeowner or building maker you have myriads of flooring choices. Not only you have to make sure that you have made the right selection but also have to look at all the associated certain prospects.
Luxury vinyl is so underrated in the past years. But nowadays due to modern technology and realistic 3d visuals it has got a revival. With the revolution in the flooring industry Luxury vinyl tiles now come with highly durable and cost-friendly material.
For any flooring purchase, certain reasons at the back end intrigue you to buy. Same is the case with Luxury vinyl tiles.  For your information, there are 8 basic reasons for which you would love to buy Luxury vinyl tiles. 
Without much ado, let's read each of them so that you can promptly turn your home into a stylish dream palace.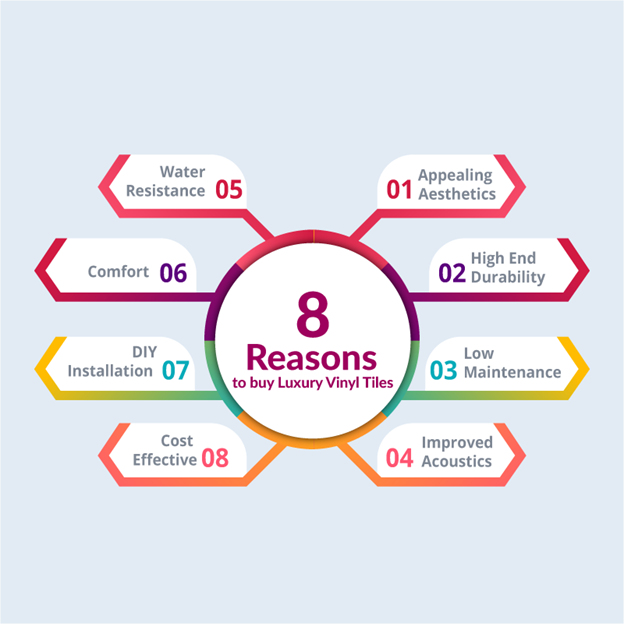 8 Reasons to Buy Luxury vinyl tiles
Appealing Aesthetics
High-End Durability
Low Maintenance
Improved Acoustics
Water Resistance
Comfort
DIY Installation
Cost Effective
1. Appealing Aesthetics OF Luxury Vinyl tiles
Luxury vinyl tile flooring comes in implausible designs and patterns. However, wood-style is one of the popular choices among homeowners. The luxury vinyl floor provides appealing aesthetics just like wood. As compared to hardwood vinyl tiles have low purchasing cost. To maintain extraordinary visual display least maintenance is required.
 If you have a low budget and you want an aesthetically beautiful foundation to consider vinyl tiles as a superior choice. Not only in the form of wood luxury vinyl also comes in the form of abstract and natural stone-like patterns. LVT fits in a broad range of unique and elegant aesthetics.
2. High-End Durability
The second main reason for selecting luxury vinyl tile flooring is its high-end durability. LVT has a long life span.  The basic reason behind the high durability of vinyl tiles is its construction method. Read the Quality guide for vinyl flooring what is best
Vinyl tiles are made up of certain layers such as
The protective vinyl backing layer
Wear layer
Hard vinyl core
Upper layer with printed film
Aluminum oxide ceramics or polyurethane material for additional protection.
Apart from other layers, Wear layers make the vinyl tile extremely durable. Imbued with prints and designs this layer protects the upper tile from scratches, scuffs spills and seepage. In case of other flooring types such as vinyl composites or hardwood, there is not any additional wear layer, high maintenance, proper care and regular cleaning is usually required for these floors.
To protect hardwood from wear and tear you need, waxing, polishing and sealing at frequent intervals. Luxury vinyl is a comprehensive flooring material, with everlasting protection layers.
NOTE:
Remember LVT is undoubtedly durable but if you move any kind of heavy furniture or sharp end object on this floor it will develop irreparable scratches.
3. Low Maintenance
Luxury vinyl tiles unlike hardwood do not require re-sanding from time to time. All thanks to vinyl construction or makeup. Wear layers, particularly waterproof vinyl layers, make it highly versatile.  Without any exaggeration, vinyl floors are highly functional.
These floors do not require any extensive maintenance. As compared to hardwood vinyl tiles are exceptionally easy to clean and maintain. This extraordinary property has made it a valuable choice among homeowners.  Sweeping and mopping once a day is enough to maintain the gloss.   Common types of luxury vinyl plank flooring luxury vinyl sheet floors vs luxury vinyl tile floors unlike vinyl composites and hardwood vinyl tiles are incredible in terms of carefree maintenance.  To deal with dirt and grime you can drop down the curtain in front of open windows.
PRO TIP:
  These additional steps will enhance the life span of luxury vinyl tile
Always Use floor mats at entrances, corridors and rooms.
Use vacuuming to remove sty over dirt and grim
Clean with a damp cloth with mild detergent once a week.
4. Improved Acoustics
Annoying noise always irritates most of us. The green revolution is promising to provide a healthy lifestyle. Health and wellbeing are the prime priorities of the people around the globe. Whether it's your flooring or walls health is always under consideration.  Providing good health is indeed an ever-growing priority of homeowners, designers, constructors and all companies.
Hardwood elevates the noise level in any space. Regardless of location, this hard word is the major cause of enhanced stress. Due to the production of noise people, today are looking for some soundproof option.
Luxury vinyl tiles are one of those options that in reality produce the least noise. With the great soundproof acoustic profile, LVT is now among the top-notch flooring choices.  Quiet underfoot as compared to hardwood and laminates.
The luxury vinyl flooring industry is getting wildly popular. With improvements in the last, many years vinyl tiles are now loved by homeowners. Not only improved in acoustics today's vinyl flooring is life proof and capable of lasting for many years.
5. Water Resistance
Luxury vinyl tiles are capable of moisture resistance beyond measures. In the case of hardwood, water affects the gloss badly. Apart from ruining the hardwood shine water because of certain other flaws as well. People today are seeking high-end flooring options that have good water resistance.
 Most of the traditional homes that have hardwood flooring are susceptible to get affected by water spills and seepage. Bathroom vinyl flooring is great against moisture resistance.  Waterproof vinyl floors are an excellent choice for water prone areas. Wear layers provide extensive protection against water spills and serve as an impervious flooring option against moisture.
6. Comfort
Vinyl floors are soft like a carpet. Unlike hardwood, vinyl provides a smooth and comfortable floor. If you are living in cold areas or if your floor tends to be cold then without having a next blink place vinyl tiles. Luxury vinyl tiles are a great alternative to hardwood and ceramics stone. 
 It provides warmth rather than cold. Life proof vinyl flooring has extraordinary texture than entails comfort and you will not exhaust even standing for a long period.  Amazing comfort level, shallow price tag, astonishing look and realistic visuals are the main reason that will let you boil down towards this option.
7. DIY Installation
The luxury vinyl floor comes in the form of vinyl planks or vinyl tiles.  Highly flexible and easy to install.  Luxury vinyl tiles and luxury vinyl planks both come as adhesive vinyl flooring options. Vinyl planks are also available in the form of regular or floating vinyl that requires no glue.
Both of the options are easy in installation. But vinyl planks are handier. You can easily select the one that suits your time and choice.
Bear in mind that any flooring installation depends on the subfloor. If your subfloor has imperfections or any holes or cracks you may end in a wrong foundation. Adhesive and regular vinyl flooring requires an ultra-smooth floor. You can check the subfloor condition with the help of telegraph.
However, vinyl tiles are easy to install because
No fancy tools are required
Can be installed without any mess.
You don't have to wait for any professional appointment.
8. Cost Effective
The price range for vinyl floors varies from the low to the high end, like any other flooring material. But when you start looking at flooring options, because of their water strength and durability, it's important to bear in mind that vinyl floors usually provide more value over their lifetime.
In general, sheet vinyl is the least costly vinyl option, but normally your look and design choices are minimal. You will get a broader plethora of differences with LVP, but without the market value of wood.
Conclusion
Luxury vinyl tiles work best in any kind of home. Vinyl tiles are good at serving both the functional and utilitarian purpose. Resistant to damage and waterproofing capability has made this flooring a leading choice in the 21st century. With the plethora of designs, textures, patterns and colors now you can have luxury vinyl tiles from Columbus flooring city.
Frequently asked questions
1. Should I Buy Luxury Vinyl Tiles?
There are certain advantages to buying luxury vinyl tiles.
LVT needs the least maintenance as compared to hardwood floors.
Tiles are individual pieces so you don't need to replace the entire floor.
Waterproof luxury vinyl tiles are best for bathrooms and kitchens.
Extremely durable. Highly functional
2. Why Is LVT So Popular?
Luxury vinyl tiles are cost-friendly. High durability and waterproofing ability are one of the main reasons behind the popularity of tiles. LVT needs the least maintenance as compared to hardwood and other flooring types.  You can buy these luxurious floors even on a tight budget.
3. Do You Need Any Kind Of Underlayment For Luxury Vinyl Tiles?
No! There is not any need of adding any underlay under vinyl floors. Luxury vinyl tiles are made with additional protective backings so adding any extra underlayment is useless.
4. Does Luxury Vinyl Look Cheap?
Luxury vinyl tiles are not cheap. Highly affordable and enhance the aesthetics of your home. It mimics strongly the hardwood and natural stone.       
5. How long does LVT last?
Luxury vinyl tile has a long life span. If you take proper care of a luxury vinyl floor it will last from 10-20 years.