Hardwood flooring is considered one of the most famous floor covers. Wooden floor coverings are getting famous with each passing day. The high popularity of hardwood flooring is mainly due to its excellent functionality.
 High versatility and myriads of choice in grains and colors make it prevalent among homeowners. Apart from stains, grain and beauty, natural texture is the primary intent behind its purchase. Solid wood flooring is an accurate depiction of homeowners taste, personality and style.
Hardwood plank floors are a pronounced investment. Regardless of place either it's your complete home, just a bathroom or kitchen, hardwood adds warmth and exceptional beauty. No matter its natural oak hardwood or teak hardwood flooring, every type will do a perfect job. If you are willing to enhance your home resale value make a choice wisely. Vinyl hardwood flooring is also a great choice
Undoubtedly it would be best if you had a lot of firsthand information before making a choice. Hardwood buying is not so easy yet not so tough. With little details but authentic information, you will win the race.
 Don't buy hardwood flooring from local and non-reputable resources. Solid hardwood flooring works uniquely if consolidated properly with other home accompaniments.
Wooden flooring benefits
Despite various cons of wooden flooring, hardwood floors add enduring charm, excellent taste and elegant chic.
We are here with complete tips that will help you in making the right selection. You have to keep certain things in your mind, besides just buying it directly. Try considering the location, geographical behavior's and analyze traffic as well.
If you are looking for good flooring options including acacia hardwood flooring, natural wood flooring, teak hardwood flooring or oak hardwood flooring buy today from Columbus flooring city.
 One best thing about oak hardwood flooring or teak hardwood flooring is that it can fit in any location. One thing that is unignorable is moisture. Otherwise, the whole process is quite daunting. Excessive moisture causes warping and gapping. Yeah, you are thinking right, your flooring is entering the wrong pathways.
Read the hardwood flooring guide. To minimize the moisture effect, consider the recommendations mentioned in the direction. Apart from instructions, you can also add moisture barriers.
Basic Hardwood flooring Choice
There are plenty of hardwood flooring choices. Each type has its pros and cons. It was evident that you already selected your favourite color. Along with color, make a selection that fits your style and taste.
At Columbus, Ohio, you can easily enjoy the options of hardwood flooring near me. When we imagine wooden floors, we generally imagine direct hardwood planks that fit directly. Without any doubt, this is traditional imagery. Hardwood is available in many options such as wood grade, thickness and finishes.
Solid wood with ¾ inches thickness
Solid wood flooring belongs to the legal flooring category. Unquestionably this flooring is most durable but not highly practicable. You cannot make a final statement in this regard. Some types of solid wood flooring stay the same even after centuries.
  Most of the types worked for hundreds of years. One of the great things about solid hardwood flooring is that it is recyclable. Wood that is damaged or not working is recycled into new planks. Yes, wooden floors are durable in this context.
 Homeowners can re-sand or can refinish home floors several times. In this period, wood changes its color, and this feature adds more depth.
Advantages and disadvantages go hand in hand.  Obvious penalties that you may face are effects from moisture, vulnerability to climatic changes and warping. This may occur due to improper installation. You can buy the highest quality hardwood flooring in Columbus, Ohio, easily and readily.
Solid hardwood flooring 5/16, 3/8 or 1/2 inches thickness
This is not true that the higher the thickness higher will be the functionality of wood. Prefer thinner wood profile over thick. Narrow wooden planks either its natural wooden floor or oak wooden floor work best. They are more functional and extremely versatile. These Thinner planks are easy to handle. They work best in moist climates and humid geographies. Keep in mind, don't put thin wooden floors directly over concrete; it will ruin the effect.
.
Essential tips before buying hardwood flooring
1. Professional consultation for hardwood flooring
Before you begin, it's always appropriate, and fruit was given to discuss with some professional. You will get the extract of exact requirements. Hire some professionals. It's important because many factors need a proper discussion.  You cannot avoid your floor trimmings and essential intersection points. For instance, floors, pipes, cabinets, and other things need special attention. Natural MAPLE wood flooring is tough to install.
 Sometimes it isn't easy to take exact measurements by using a saw. So the better option is to hire some professional. If you are low in the budget, you can take help from an experienced friend as well. 
Some hardwood flooring requires DIY installation. You have to place directly without any glue or nails.  No fixation is needed. Most of the engineered hardwood floors are click-lock. For beginners, installation is easy.  However, in the case of solid wood, proper fixing equipment's are required.  
One pro tip is to always consider wood finishing. Don't choose randomly. Effort varies accordingly.  Never select the wood that requires frequent sanding and glazing.  Go for durable and easy to maintain options.
2. Hardwood Flooring Plant Species
After professional consultation, the second step is to make a selection of wood. This process needs much attention. Try to make the right selection. Wood finding needs an eagle eye. Wood selection mainly depends on your budget and personal taste. 
Domestic species such as natural oak hardwood, maple hardwood, teak hardwood, bamboo or hickory are great options.  All of these species come with a more resonant price tag with premium expected quality.
Exotic species mainly include Brazilian cherry and cork. Every species has a different grain and pattern. For instance, oak hardwood floors have different grain sizes that are more prominent. Maple hardwood floorings are relatively subtle. Exotic species grains and design also vary accordingly.
3. Hardwood category
 Don't decide yourself. Never buy just by visual analysis. Around the globe, there are specific hardness rating tests such as Janka hardness analysis. As the number goes higher, it means harder is the wood. Higher hardness means it's highly resistant to indentations.
 Exotic and domestic species vary widely in hardness. Natural hardwood flooring is inclined to get damaged frequently. If you are looking for some durable options, consider oak as a highly versatile option.
4. Styling Considerations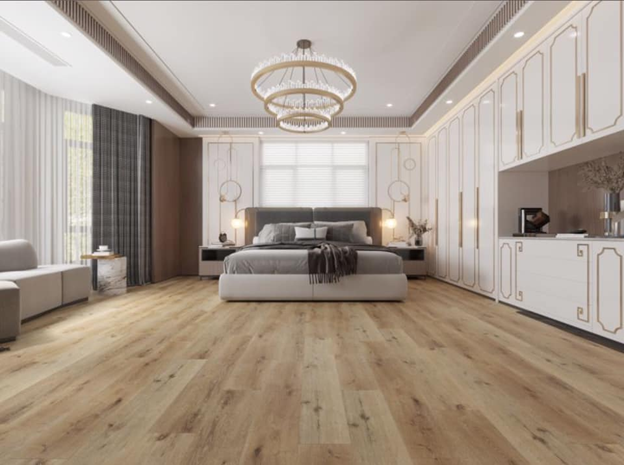 5. Colors selection
Domestic wood has many colors. Exotic species are not naturally cultured. These wooden planks are stained with different colors. Most of the alien species require rich sunlight to develop a deeper color. You can easily buy tinted hardwood planks from Columbus, Ohio.
6. Width selection
Width plays a significant role. Hardwood plank Width drastically changes the look of the floor. Wider planks hide seams greatly. Natural wood with a broader width enhances ordinary beauty.  Hickory hardwood and tigerwood add an incredible effect on feet. 
7. Texture selection
There are a lot of options in textures. Main texture categories include smooth, distressed, hand-scraped, and brushed.
8. Pattern and Grain size
Most hardwood boards differ in colors and grain size. Installing them haphazardly can cause specific issues. Dark and light patches will appear and can cause a seemingly ugly effect. First of all, before the installation of wood permanently makes a pre-arrangement.
Try a different position and then finalize the one that reflects your taste and personality. You are independent to make your unique pattern. There is nothing wrong or nothing right. Your taste is the perfect arrangement. Try the planks that will harmonize the overall superfluities.
9. Cost Considerations
Now after going through various parameters such as hardwood type, hardwood ranking and your primary style. Consider your budget. Calculate the total investing cost. Start from buying wood to final installations including moldings and trims and underlay.
Aside from buying hardwood and its installation, there are certain extra outlays that you need to pay.
Furniture replacement and removal cost.  Professional installers need to remove the whole furniture and then to place again. it may need extra charge. You need to replace the older flooring, regardless of material, some effort is required. It is also done by professionals. You have to pay them. If you are on a tight budget, consider DIY replacements.
Subfloor installation, moisture barrier installation and some other things need extra money. You cannot save money on these.
 For accessories and installation materials, you have to spend a bulk amount. You can say that this is a lifetime investment. Hardwood flooring displays a pronounced effect, but it is not cheap. You have to be on a reasonable budget.
10. Finish
Prefinished or post-finish both options are acceptable for flooring. Prefinished flooring types have a multitude of extensive layers that are uniformly applied. This flooring has many advantages, such as it is more challenging and more durable.
Some installers follow finishing afterwards. Right after installation, they fit and complete the look. Site finishing provides more versatility and enhances moisture resistance.  The main difference that lies in both types is cost. Prefinished flooring is relatively less costly as compared to site finishing.
10. Geographical Location
Location plays a significant role in determining some basic facts. You need to use moisture-resistant flooring for bathrooms and different ones for your bedrooms. Basements and bathrooms have an additional requirement. Buy white oak or teak wood for these places.
 Don't miss to consider color variation. Some woods need extra care from sunlight to avoid color fade. Color fading properties may affect your mood, and you might regret investment.
11. Durability
Buy flooring according to traffic requirements. Find some highly durable options for high traffic areas; durable wood is easy to clean and maintain. If there are children and wild pets that frequently come inside your home, find out hard options. Wooden floors are susceptible to dents and incidents of moisture. Go for an option that will fit in every aspect.
12. Sound
In high rise buildings and apartments, sound transmission is a big problem. To solve this problem always add an underlying flooring. Subfloors play an essential role. Make sure that subfloors have an even tone and flat surface.  It is a general observation that the harder the floor more will be the echo.
13. Environmental Sustainability
We're entirely stressed over the climate today, and worries about the rainforest are at the cutting edge of genuine concerns. A large portion of the issues encompassing deforestation place on unlawful logging and reckless absence of reforesting.
Today, these worries have prompted new guidelines and laws. Because of sheer lifespan, maintainability, cost-adequacy, and reasonableness are innate estimations of a hardwood floor.
To guarantee that you are purchasing flooring that fulfils ecological guidelines, approach the salesperson for documentation of consistency with the legal Acts.
14. Acclimatization
Consider climate changes. Place the hardwood flooring in the areas that are least vulnerable to climate. Don't use this flooring in rainy areas and that have more extreme variations in weather patterns.  Humid conditions will affect hardwood flooring badly. Hardwood expands easily. Never ignore moisture analysis.
Ending Remarks
Hardwood flooring comes in various colours and patterns. Buy the latest and affordable flooring in Columbus, Ohio. Regardless of particular disadvantages, wooden flooring adds great style to your home. In the buying, as a mentioned earlier guide, all the parameters are discussed. Give a complete read to avoid any severe consequences.
Frequently Asked Question
1. What is the best hardwood floor?
Natural white oak, maple, hickory, bamboo, Brazilian cherry teak wood and tigerwood comes in the category of best hardwood flooring. You can choose the one that suits your taste and reflect your personality.
2. What is the color hardwood floor trending in 2020?
White oak, chocolate brown, hazel, white, off white both light and dark paints are trending flooring colors in 2020
3. What is the most scratch-resistant hardwood flooring?
Hickory is one of the best choices. If you are looking for scratch-resistant hardwood floors, you can also opt oak maple and cherry wooden floors. Bamboo is also highly versatile and durable.
4. What is the best thickness for a hardwood floor?
It's not right that higher the thickness, higher will be the durability. Choose thinner but broader planks.  How ¾ thickness is considered a proper consistency for hardwood flooring.
5.  Where is the best place to buy hardwood floors?
You can buy hardwood flooring from local flooring showrooms. However, if you are living in the mighty Columbus area or In Dublin, Ohio buys flooring with the latest designs and patterns at the Columbus flooring city.