Flooring is one of the essential staples in any home remodeling. Whether it's a rug or a marble floor, flooring is always under observation. It's quite hard to find one of the best choices for your dream home with so many diverse options. Undoubtedly wood is known as the latest flooring material.
Simple lumber is not a satisfactory answer. One of the most appropriate choices for flooring in any home is engineered wood.
Engineered wood flooring is now becoming the favorite choice. This wood flooring is currently most preferred over stone, marbles, tiles, and even other flooring types.
But you cannot buy the right flooring just by knowing its name. Selection of the correct color, design, and pattern are also equally important.
With a vast diversity of grades, wood types, and species, including certain complicated factors such as finishing, construction, installation, edging, and much more, this is not an easy task. The whole process is quite daunting.
Apart from the complete know-how of certain parameters, you are equally vulnerable to ignoring some. you can buy your favorite engineered hardwood flooring from Columbus flooring city.
Most people want an incredible home. Your dream home needs much struggle and passion. Unless you are not clean in your views, you were sure that you were moving in the wrong direction to date.
Most people are unquestionably unaware of the standards. They want their flooring to be the best version, just like other home embellishments. However, some mutual concepts that most of us hold in our minds about flooring are
Beautiful appearance.
Premium quality.
Lifetime durability.
Highly stable.
Tremendously efficient.
Perfectly adjusted with the environment and highly functional.
Last but not least easy to clean and maintain.
Before moving further to let you know about the basic buying tips, you must understand what engineered wood flooring is.
What is engineered wood flooring?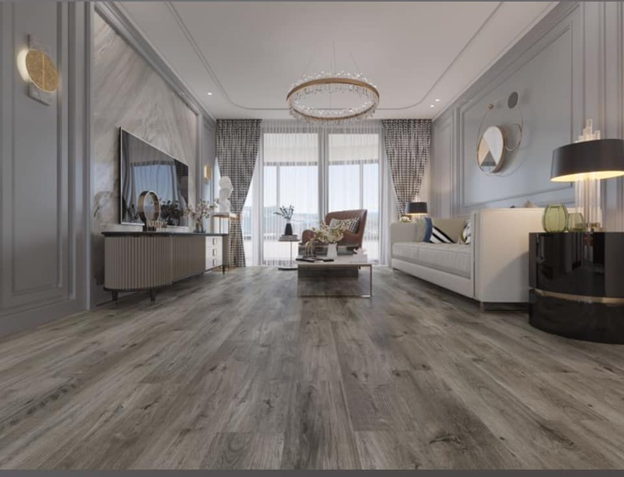 Engineered wood is just like solid hardwood with little changes. It is made of hardwood core, with certain other additions and basic wood veneer on the tops. Engineered wood vs. solid hardwood is more versatile.
An ardent eye will feel the difference. Highly enriched expanses and solid stripes make this the best flooring. You may get confused because just by looking at the surface, you are incapable of finding. Red in engineered wood flooring is only on the top, and it is perfectly veneered.
The hardwood core on the top beneath layers mainly constitutes plywood sheets and high-density fiberboard. Each material is seamlessly attached with glue. In the United States, hardwood flooring is replaced by engineered wood flooring. With the revolution in the flooring industry, the latest engineered wood comes with high market function and performance.
Relax, you are not limited in choice. Engineered wood flooring exists in a wide variety of wooden species. You can select the best flooring from traditional to vintage house collections.
At Columbus flooring city, a wide variety of affordable engineered wood flooring is available. You can easily buy the one that sits perfectly in your dream home. if you are in Dublin or in the surrounding buy engineered wood flooring in columbus flooring city.
Some of the best parameters are that wooden flooring requires no professional installation. You can fix the boards yourself. Unlike other flooring, the latest engineered wood flooring demands no time. This is highly efficient.
You can walk right after a few minutes of fixation. Cleaning of engineered wood flooring is also very easy. Just occasional moping is required.If you are looking for some of the best options in the mighty Columbus area, visit Columbus flooring city to have more details.
How Long It Will Last?
This is one of the most intriguing questions. The lifetime of engineered wood flooring as compared to solid hardwood or vinyl flooring varies widely. Each flooring type owns some specific characteristics. Hardwood flooring has its pros and cons, and the same goes for marble, granite, or stone.
The lifespan of engineered hardwood flooring mainly depends on the thickness of the wooden plank. Along with thickness, location, environment, climatic conditions, traffic, and movement of kids and pets in any home play a vital role in determination.
Lifespan may also vary according to wood species. White Oak has a higher period as compared to exotic species such as Brazilian cherry. Last but not least, a lifetime is enhanced when you take proper care. Engineered wood flooring is the latest trend that everyone will follow in 2021 and beyond.
How To Buy Engineered Wood Flooring?
This buying guide will help you buy any home flooring. The right type of flooring is just a gateway to your dream home.
So stay tuned and read all the details given below.
Wood Sources
The first and foremost thing that you should always keep in mind is to consider the wood type. Each plant produces different wood with distinct properties. Don't be confused.  The top wood is a real beauty. If the Veneered top is not aesthetically pleasing, then it is a big loss. For an incredible home remodeling, aside from just looking at the type of wood, always consider these four parameters
Color tone and strength.
Durability
Nature of wood
Home interior décor.
You can easily select an option. Engineered wood flooring exists in many forms. Such as oak engineered wood flooring, maple engineered wood flooring, or acacia engineered wood flooring.
Brand Selection
After you have decided on the wood species, the second most vital thing is brand selection.But, Flooring markets have wide variation. Indeed, Some brands are just copies of real, and they proudly sell cheap engineered wood flooring. Opt for the product from a highly reputable brand.
It's certainly a safe bet. Quality brands assure you of high-quality and durable products. Don't buy randomly. Do thorough research. Take a professional consultation or browse through the internet. Finding the best-engineered wood floor is not a one night play. You can also study brand history and reviews.
Shade Selection
Right shades work well. Choosing the right colors is a big deal. Try to select colors that consolidate the overall interior décor. Decide based on wall paints, rugs, and furniture, and you can also decide from a certain color family. While shopping, check the catalog and take a suggestion from the salesperson as well. Choose contrast and in the case of pets, go to lighter color tones.
Texture Is Vital
Extracting the true sense of décor in any home is vital. Texture is one of the main ingredients that need much attention. There are plenty of available options.
Surfaces mainly include smooth, clean, brushed, vintage, distressed, and sawn. Other texture options mainly include burnt and smoke. Then, Texture may vary from place to place.  One pro tip is trying a clean surface for kids' rooms and vintage for the bedroom as an ideal choice.
Consider Surface Finish
Surface finishes mainly constitute the upper covering. Finishes serve as a surface protective coat. But, Finishes are mostly available as oil finishes, lacquered finishes, and glossy and matte finishes. finishes enhance durability and provide a neat and clean look.
With appropriate finishes, the engineered wood floor becomes less prone to get damaged. wonderful finishes are now available in Dublin at affordable prices.
Core Thickness
While you look for the construction process, core thickness is also important. There are certain criteria for this purpose. Durable engineered wood flooring always constitute
An overall thickness of 5/8″ OR AROUND ¾ "thickness.
A veneer 3/16″ thick.
A hardcore of 9 -11 ply thick.
There is bulk production of most engineered wood flooring on the market. Even if you order the flooring simultaneously, the mass construction methods result in flooring boards of different widths, lengths, and thicknesses.
It can make implementation very challenging. The floor's color and finish can also be entirely different because the flooring came from a big batch instead of being manufactured per order.
Checkout Available Grade
Grade selection plays a significant role. Cheap grades have the least durability. Choose Grade astutely. Grading is decided based on the size and number of knots, sap composition, and colors.
Primary qualities are prime Grade, rustic, classic, and characteristic.But, All can handle different homes. Then, By analyzing traffic and other parameters, you can easily choose one. But, For a high up-gradation of residence, you can select prime Grade. For busy families, pastoral work works well. Classic and characteristic work well in traditional-style dwellings.
Construction And Manufacturing
Different floorings have different construction strategies. indeed, Engineered wood flooring is constructed using a hardwood core veneered on the top with multiple plywood and fiberboard sheets. Core thickness may vary according to the manufacturer and the need of the buyer. However, in any flooring, construction is one of the main parameters determining engineered wood flooring's lifespan and durability.
Keep an Eye on the Installation Guide
Right after deciding on other parameters comes directly on installation. Either selected flooring requires professional help or its DIY process. DIY engineered wood flooring needs no external services. The structure mainly depends on the type and length of the plank.
Wooden planks are mostly glued on or remain floating. In the long run the installation process varies with the size of the location. For big places, it is always glued, and for the small surface, it is floating.
Maintenance
Unless and until engineered wood flooring is not clean, it has no aesthetic importance. Clean the floor frequently. Do occasional moping and try cleaning with a damp cloth. Cleaning also depends on the nature of texture.
Lacquered engineered wood flooring is easy to maintain and clean as compared to other types. Taking good care of engineered wood flooring will enhance the resale value of your home.
Don't Forget About Warranty
When shopping for engineered wood flooring, pay heed to the warranty card. Buy from the brand that gives you warranty pack products. Certain brands mimic the original brand, but they are cheap and least durable. Buy from the ones that ensure you some values and have a good reputation. No reputable brands ever claim their product.
Environmental Sustainability
 Environmental sustainability is very important. But, Make sure that the wood you have selected is not hazardous. It has no harmful environmental impacts. Wood from sustainable sources such as wood is approved by the forest stewardship council and PEFC. These organizations are caretakers of forests around the globe. Don't buy any certified woods.  Try to be a responsible citizen.
Protect yourself, protect the environment.
Frequently Asked Questions
1. What Is Engineered Wood Flooring?
Engineered wood flooring is made up of high-quality hardwood, plywood, and high-density fiberboard. Also, The top layer mainly involves veneered hardwood. It is getting highly popular among home designers.
2. Why Choose Engineered Wood Flooring?
One of the main reasons to select an engineered wood floor is its high versatility. It is a more easy and appropriate choice as compared to hardwood and laminate floorings. It is easy to install and has good resistance against moisture. This flooring is now selling like hotcakes.
3. Do Engineered Wood Floors Scratch Easily?
Engineered wood flooring has a top layer of pure hardwood as the hardwood core is strong enough, so due to this property, it does not develop scratches easily.
4. How Long Engineered Wood Floors Last?
The life span of the engineered wood floor mainly depends on the thickness of the plank. But, The higher the will be, the more durable it will be. The normal lifespan with moderate thickness is 20-30 years. However, as the thickness increases, it reaches up to 40-80 years.
5. How To Clean Engineered Wood Flooring?
To maintain shine, continuous wiping is required. Clean frequently with a damp cloth. Mop the floors often and deep clean only once in two months.